Optional Service
* In the case of consumption tax rate change, we will apply the tax rate at the time of the event and charge additionally.
Exhibitor seminar
Exhibitors have the opportunity to present their new products, technologies or solutions to the EXPO attendees with their own seminar, which is a great way to give in-depth explanation about the features and background.
Venue :

Tokyo Metropolitan Industrial Trade Center, Hamamatsucho kan

Date :

17 (Wed) – 19 (Fri) November 2021

Price :

50 minutes JPY 80,000 (Exc. tax) / 1 session

Basic facilities :

Projector for PC, screen, 2 microphones

Capacity :

35 attendees (Varies depending on COVID-19 measures)
* Free charge for attendee as basic rule.
Program
| Schedule | 17 (Wed) November | 18 (Thu) November | 19 (Fri) November |
| --- | --- | --- | --- |
| 11:00~11:50 | A | F | K |
| 12:45~13:35 | B | G | L |
| 13:50~14:40 | C | H | M |
| 14:55~15:45 | D | I | N |
| 16:00~16:50 | E | J | O |
Rserved(As of 14 September)
Exhibition floor plan advertisement
Circulation :

6,000 copies (Distribute to visitors)

Listing fees :

4 colors JPY 120,000 (Exc. tax)

Size :

60mm x 60mm

Application deadline :

22 (Fri) October 2021

Manuscript deadline :

29 (Fri) October 2021
Website banner ads (Science Photonics Fair website)
Display period :

Mid October – 19 (Fri) November 2021

Big banner :

JPY 80,000 (Exc. tax)
Size : W250 x H250 pixel

Regular banner :

JPY 40,000 (Exc. tax)
Size : W250 x H100 pixel

Application deadline :

24 (Fri) September 2021

Manuscript deadline :

1 (Fri) October 2021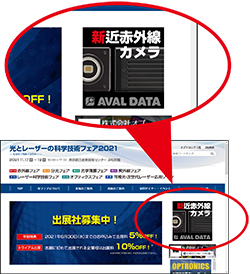 Advertisement for OPTRONICS Magazine November issue (a special issue for fairs)
Circulation :

12,000 copies plus a bonus 3,000 copies to be circulated at fairs.

Listing fees :

1P 4 colors – JPY 260,000 (Exc. tax)
1P 2 colors – JPY 150,000 (Exc. tax)
1P 1 color – JPY 120,000 (Exc. tax)

Application deadline :

5 (Tue) October 2021

Manuscript deadline :

11 (Mon) October 2021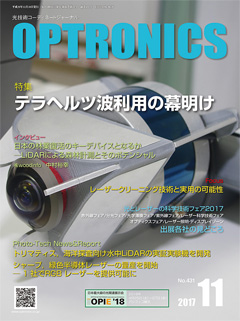 Application Form