Special Zone
Visible light / Advanced Laser Application Zone
Organized by
Consortium of Visible Laser Diode Applications
Co-organized by
Laser Display Technology Research Group, The Optical Society of Japan
Cooperated by

レーザー学会 レーザーの自動車応用専門委員会/Study Group of Optical Wireless Power Transmission, The Laser Society of Japan/
レーザー学会 光感性委員会/Japan Photonics Council Kansai
Visible light / Advanced Laser Application Zone Outline
Visible semiconductor lasers can bring a dramatic energy-saving effect and now offer three-color RGB. They are expected to become a huge industry in Japan, as they are applied to new services as well as existing products. By seeing various related products in this zone, you can explore the different applications of visible semiconductor laser diodes with their high potential and future possibilities. Many concurrent events such as the technical seminars and symposiums will be held and many researchers playing key roles in this area will participate. Please use this opportunity at the best space to promote your laser-related technology / products.
Items on Display
Products and Technologies for Visible light / Advanced Laser Application
Exhibit style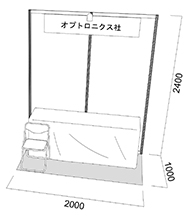 Price
JPY 200,000 → Special Zone Price JPY 120,000 (Ex, tax)
* Multiple discounts are not available.
Booth Specifications : W2.0×D1.0×H2.4m
Table with white cloth(W1.8×D0.6×H0.7m): x1
Company name board
100V(200W)electrical outlet
Spotlight : x1
Folding chair : x 1
Carpet
Benefit to exhibit
1. Show Time
2. Corporate PR (video)
Video presentation by laser projector (Planning)
Equipment offering: (* Please contact us)
3. Corporate PR (presentation time)
Products, company introduction
In addition, there will be also a technology application product showcase section (Optional plan).